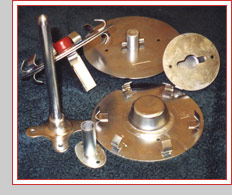 Welcome to the web site of Berkley Precision Engineering.
We are based in southeast England and are a company built on experience in precision engineering and in producing machine parts to the highest standards. We have shown our diversity and flexibility to our clients by producing quality workmanship at a reasonable price and producing it on time, something many companies are unable to do.
We carry out small and large work in metal and plastics, in a variety of areas, including CNC milling and turning as well as manual machining. We provide a quick and efficient service for all types of precision work at a competitive rate.
We specialise in:
CNC Milling and Turning
Tooling and Prototype Work
Motorsport Components
Pressed parts and Fittings for the Mannequin Industry
Fabrication and Machining of Aluminium Extrusions for the Heat and sink industry.

CNC Milling
- 2-x matchmaker 800
- 6-x matchmaker 700
- 2-x Hurco VM1 Machining centre

Full Tool room Facilities
- Conventional Milling
- Conventional Turning
- Surface Grinding
- Drilling, Tapping & Assembly
- Presswork up to 70 tons
- Fabrications etc…

CNC Turning
- Hitachi- Seiki 3NE (Bar feed)
- Magazine Feed
- Leadwell LT
- Leadwell LTC
- Gate Rigidturn
-Leadwell LTC 6
-Leadwell LTC 10

CNC Wire Erosion
- Charmilles-Andrews
We have an enviable record in understanding our clients needs, realising we need to be flexible, reliable and competitive. We believe that the client wants the best and after finding it with us, will return time and time again.
For further details about our services please contact us via our enquiry form or the following details.
Berkley Precision Engineering LTD
3B Eskdale Road, Uxbridge Industrial Estate, Uxbridge, Middlesex, UB8 2RT
Telephone: 01895 258555 :: Fax: 01895 258255
E-mail: info@berkleyeng.co.uk :: Web: www.berkleyeng.co.uk